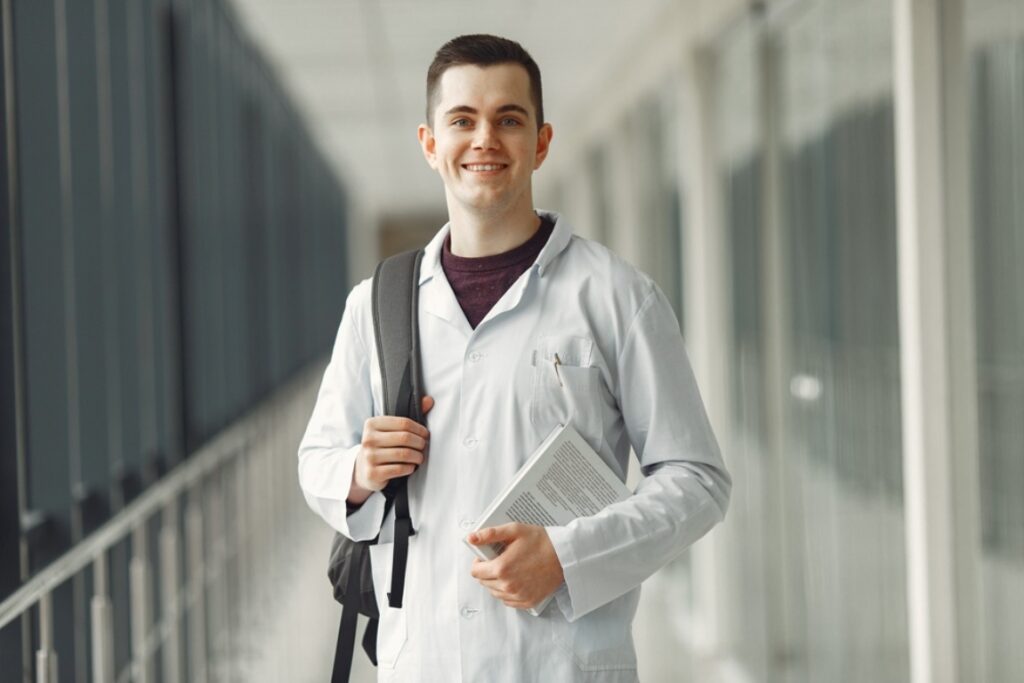 ---
Learn what it takes to become a
scribe

with these training methods
In an ever-evolving healthcare industry that requires enormous amounts of data to be created and managed, the need for medical scribes continues to increase. And as medical scribes are being increasingly used in clinical practices, the need for training has also considerably increased. Yes, medical scribes are being used in almost every practice setting and across a wide variety of specialties.
Are you intending to become a medical scribe? If yes, continue reading. This article contains all valuable information on the types of training methods available at your disposal. Before we move into the training options available, let us just recall what a scribe is and what it takes to become one. A medical scribe is essentially a kind of personal assistant to the doctor. They are there during every
step of the patient encounter. They document everything – right from initial history taking and exams to all the components that go into seeing a patient. However, the role of a medical scribe extends far beyond clinical documentation. Today, medical scribes work alongside the healthcare provider, offering support in a wide variety of crucial tasks.
How do you become a scribe?
The minimum requirement to become a scribe is a high school degree. However, a certification or a related college degree, preferably in science, would be an added advantage.
A medical scribe training may include any of the following options.
• Online courses
• Reading books and manuals
• Exclusive programs designed by big companies, and
• Enrolling in courses offered by local colleges.
Medical scribe training books and manuals
There are several medical scribe training materials available to help provide training for scribes. The training books and manuals provide invaluable information not just for beginners but also for experienced scribes. The following are some of the references.
Medical Scribe Training Manual, 5th Edition
This manual includes all information that is needed to successfully educate and train a medical scribe. This training manual also serves as an excellent guide to taking medical notes, mastering medical terminologies, understanding anatomy to rectifying common scribe mistakes. It also includes interesting quizzes, clinical scenarios, and common medications.
This is a perfect guide for those intending to become scribes in ophthalmology. This book is been published after three years of relevant experience as a medical scribe and 20,000 patient encounters. Hence it serves as an excellent reference for those intending to establish a rewarding career.
The Ultimate Medical Scribe Handbook: Emergency Department 4th Edition
This is a comprehensive medical scribe training manual focussed entirely on ER scribes. The topics discussed include medical terminologies, common emergency medical conditions, HIPAA standards, brief illustrations, essential anatomic terms, and a detailed description of the medical notes.
The Ultimate Medical Scribe Handbook: Primary Care 3rd Edition
This is a complete handbook for those medical scribes working with primary care physicians.
Ultimate Medical Scribe Handbook: 2nd General Edition
This serves as excellent training material for scribes in a variety of settings.
Online courses, schools, and colleges
Online courses
One can take advantage of several online courses conducted by current as well as former scribes. A certificate of completion will be provided on the successful completion of the course. The main benefit of an online course is convenience. Yes, with an online scribe training program you get the certification from the comfort of your home.
Pacific Medical
This school offers a three-week self-directed online course designed specially to graduate scribes. Their training programs comprises of two components. The first is the Medical scribe Certification course and the second is the Clinical Documentation EHR Course. Upon completion of the Pacific training curriculum, you will receive two certificates of completion. This program also guarantees job placement after completion.
Saginaw Valley State University
Offers a revolutionary program geared towards training undergraduate students to become "physician facilitators". Yes, that is how they call medical scribes. This program comes with the added benefit of paid work experience and working real-time with physicians, As students get to work alongside physicians at Covenant HealthCare they gain a lot of valuable clinical expertise.
Scribe Academy at Grand Valley State University
The Scribe Academy's program is specially designed to provide training in the classroom, online, and in a clinical setting. On successful completion of the course, the student will be hired on an hourly basis by Helix Scribe Solutions. The Grand Valley State University Scribe Academy provides training absolutely free of cost.
Healthcare Scribes
They offer a comprehensive medical scribe training program that helps you gain the knowledge you need to succeed in this field. Their courses are developed by experts and are both informative and easy. Healthcare Scribes have developed a detailed curriculum where you get to learn everything from medical terminology to pharmacology and everything in between. A certificate of training is issued upon successful completion of the training program.
Company Assisted Scribe Training Programs
Many reputed companies have their own training programs. This training takes place after a scribe has been hired. They provide rigorous training, and only upon successful completion are new hires guaranteed a job as a medical scribe. The scribes are also paid during their training period.

S10 Academy's Medical Scribe Training Program
S10 Scribe Academy offers a high-quality, self-paced medical scribe training program curated and led by top industry experts. Their program covers everything from human anatomy, medical terminology, clinical workflow, billing and coding, to ensuring compliance with policies. It is a three-level certification course. You are required to clear each level to progress to the next. Upon successful completion of all three levels, you will be awarded a certificate of completion.
ScribeAmerica Training Program
ScribeAmerica a leading medical scribe company has its training program designed specifically for ER scribes. They have devised a three-step training program that includes
• Classroom training where they are introduced to basic skills
• A supervisory period where they gain clinical experience as they work with experienced scribes, and
• A re-assessment and review to ensure that scribes are well-trained and efficient.
Physicians Angels
Their intensive training program mainly covers human body systems, medical terminologies, specialty-specific training, pharmacology, coding, HIPAA compliance, and best practices for successfully managing an EHR. The training period usually ranges from one to four months.
Healthcare Documentation Professionals Group
This professional training and staffing company called American Healthcare Documentation Professionals Group has devised a training program. They undertake to train and provide certification for those who successfully cleared the certification exams. Their approach is a kind of little different. They not only provide training for those new aspiring individuals intending to become medical scribes but also for the physicians existing support to help scribe.
Elite Medical Scribes Training
This is yet another academy that aims at providing training for scribes. They provide complete online medical scribe training courses for all medical specialties. Their course covers everything from human anatomy, medical terminologies, clinical workflows, billing, and coding, to ensuring compliance with policies. Elite Academy's training outperforms the industry standards in terms of training hours, virtual classrooms, and specialty-specific clinical scenarios.
Becoming a medical scribe is the first step towards establishing a lasting career in the healthcare industry. Get the right training you need to excel in your career as a medical scribe.